March 23, 2021
Boats Group
BoatWizard Reporting Just Got Ridiculously Easy

Comprehensive performance data in fewer clicks and no wasted time
Being data-driven is no longer an option for making the best business decisions. Now more than ever dealers and brokers are harnessing the power of data to steer more effective digital marketing strategies. Boats Group is committed to making it easier for the industry to report results and recently launched new upgrades to the BoatWizard 3.0 reports dashboard. The refreshed, easy-to-navigate reporting suite delivers full-picture analytics with at-a-glance convenience and has all the tools to help drive more ROI.
"Our priority is delivering technology that is needed, so we consulted our Power User forum to obtain direct feedback about the performance of BoatWizard from the people who use it day-in and day-out," said Sam Peterson, Boats Group's CTO. "When it came to visualizing data and creating custom reports for clients and internal marketing and sales purposes, the group provided our product development team with the information they needed to design solutions to streamline the entire experience. As a result, BoatWizard 3.0 reporting is more intuitive and more rewarding to use."
The released wave of updates give members seamless, multi-select filtered searches of performance, improved definitions of metric terminology, simplified data views, and enhanced exporting.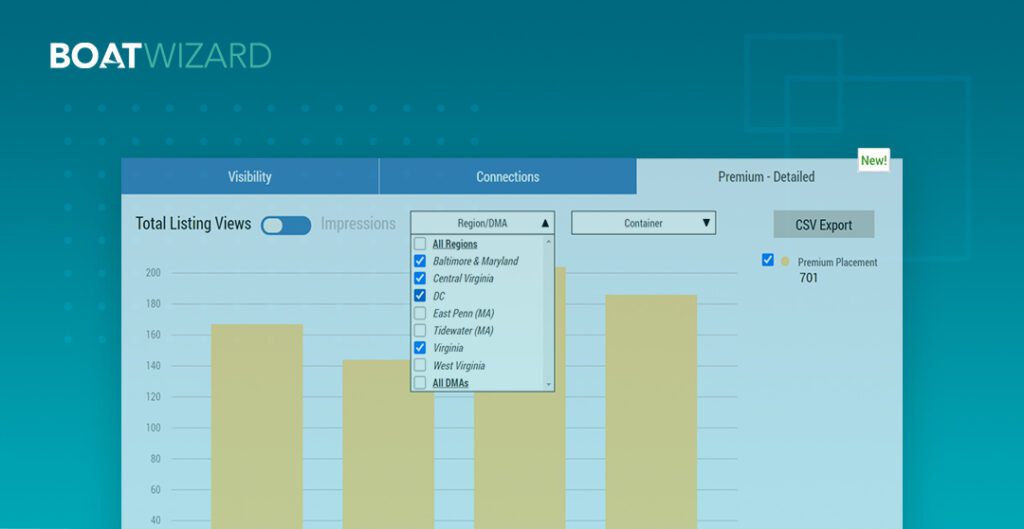 Simplified Views of Data, Performance
With a COVID-influenced headwind around the bend, charting marketing campaigns and boat sales at every turn is imperative. BoatWizard data reports provide the opportunity to compare campaigns and identify benchmarks based on successes. In today's BoatWizard 3.0, users are never left guessing about which metrics mean what with the introduction of helpful definitions, called Tooltips, throughout the reports dashboard. Improved access to data report terminology means better communication and understanding of progress for sellers and brokerage clients alike. 
Newly added listing filters for make, price, condition, vessel length and sales contact, make it possible to group listing performance by similarities and offer a better way to view connected data points–and as filters change, the page refreshes promptly. 
Perhaps the most exciting new feature, Premium Product Graphs show a visual snapshot of how premium listings are being engaged in terms of impressions and listing clicks. Armed with the data (sorted by region/ DMA or boat class), brokers and dealers can pull all the right strategic levers again and again on the products they know work with their buying audience. 
Improved User Experience
Besides turning data into dollars, time is also money, so load times of BoatWizard 3.0 reports have been reduced by 60%. A series of more than 10 behind-the-scenes improvements allow data sets large and small to be returned faster and much more reliably. 
New Time-Savers:
IMT-ID Data:

Consistently displays in table and filters for easier identification and navigation

Subtotals:

See total impressions or listing views; no need to hover to total the day-by-day or week-to-week

Clear Button:

Resets filters and reporting without the need to refresh the browser 

Listing Count:

Compare listing count between new and used inventory which aligns with lead count and impressions

Lead & Global CSV Export:

Connect more data points between listings and lead count with the view of your choice
All together, these areas of improvement provide more data-driven insight – and help carve more time – for Boats Group's industry partners to forge ahead and shape the future of the business of boating. 
Informed Updates, Unmatched Value
Boats Group extends an invitation to its industry partners to join a new chapter of the Power User forum to help inform upcoming BoatWizard 3.0 product updates. Contact a Boats Group sales representative today about contributing to the conversation.
"I have been extremely impressed with not only the customer service that I receive from the Boats Group team, but the constant updates made to the software. It is very important for me to have the data and reporting needed at any given time. Boats Group has made that easily accessible as well as improving the reporting features. Sorting the amount of listing views per broker/date is extremely helpful." 
-Sara Osheroff, Business Development Manager, Bay Marine
Learn more about BoatWizard 3.0 at www.boatsgroup.com/experience3.  
˂ Back TO NEWS